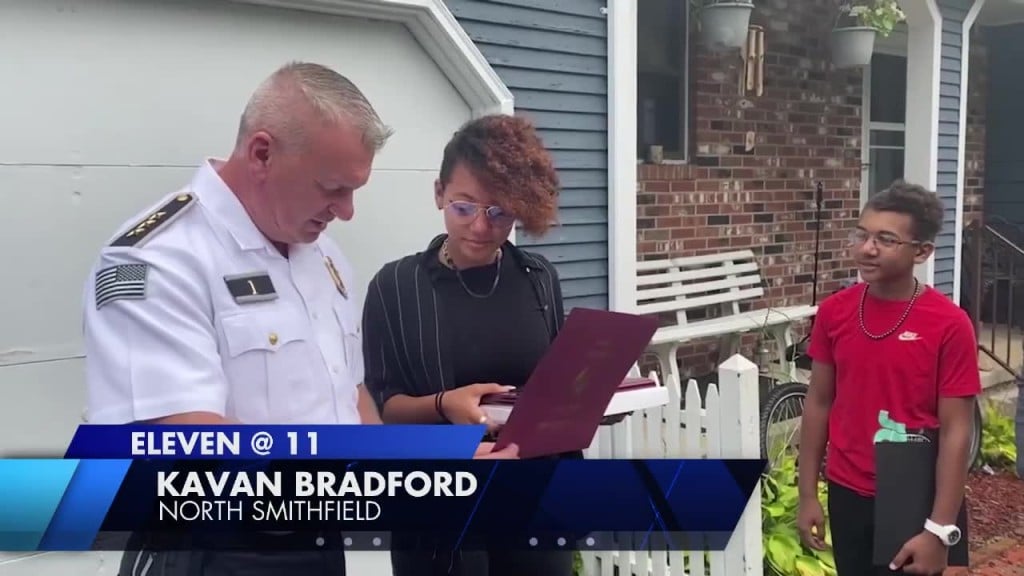 NORTH SMITHFIELD, R.I. (WLNE)– Kavan and Kailyn Bradford were honored Tuesday by the North Smithfield Authorities and Fire Departments. Kavan was honored for conquering cancer and a brain aneurysm, and Kailyn for conserving his life.
Kavan Bradford, 12, was identified with phase 4 Neuroblastoma at 18 months old. After extreme chemotherapy, he beat the cancer.
On May 24th, Kailyn, Kavan's older sibling, heard labored breathing originating from his space. She discovered him unresponsive and instantly shouted for her daddy, who started CPR.
She promptly called 9-1-1, discussing, "I keep in mind, like, screaming our address very first thing. I didn't even state our name I simply keep in mind screaming our address instantly."
Emergency situation workers reacted to the house within 5 minutes. They hurried Kavan to Hasbro Kid's Health center.
Kavan went through emergency situation, life-saving surgical treatment for an unusual brain aneurysm.
" He remained in the PICU for weeks, and came out not having the ability to stroll, and is now doing whatever," stated Erin, Kavan and Kailyn's mom.
A number of emergency situation systems came to their home Tuesday, granting them both with certificates of heroism.
Kavan and Kailyn's daddy, Bobby, concluded, "he's beaten the chances two times up until now in his life, and we're asking him that he does not show to us that he's a hard kid. We understand that currently, he's absolutely nothing except a wonder."